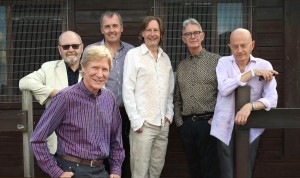 *** POSTPONED - NEW DATE TBA ***
Legendary 60's Group, The MANFREDS will perform a full evening concert of non-stop Hits by THE MANFREDS themselves and select individual members such as PAUL JONES and TOM McGUINNESS of hitmakers McGUINESS FLINT.

The 60's group Manfred Mann is now considered, more than ever, one of the finest and most respected bands from that era. As a result, their records have a timeless quality and some 55 years on, The Manfreds, with original front man, Paul Jones, will be performing many of their hits, including 'Do Wah Diddy Diddy', one of the most popular and instantly recognisable songs of the '60's, and still the biggest audience pleaser at their concerts, along with a new mix of Jazz and Blues covers from their album 'Makin' Tracks'
Paul Jones, with his unique harmonica sound, will be joined, as usual, by Mike Hugg on keyboards, Tom McGuinness on guitar, Rob Townsend on drums, Marcus Cliffe on bass, and Simon Currie on saxophone/ flute.
The Hits will just keep on coming 
* 54321 * Pretty Flamingo * Do Wah Diddy Diddy * Sha La La * If You Gotta Go, Go Now * Oh Not My Baby * Come Tomorrow * My Name Is Jack * The One In The Middle * Just Like A Woman * Poison Ivy * The Mighty Quinn * Semi-Detached Suburban Mr. James * Ha! Ha! Said The Clown * Ragamuffin Man * Hubble Bubble (Toil & Trouble) * You Gave Me Somebody To Love * Fox On The Run * and many many more!
This show is Unreserved Seating.
All wheelchair users please book directly with the Box Office on 01256 416384.

You can find all our shows on Facebook: www.facebook.com/oeplive. Please do take a look and Like our page.
Friday, 24th April 2020 
Show: 
7.30
PM Doors: 7:00PM
Tickets:
 £29.45
 (inc booking fees)