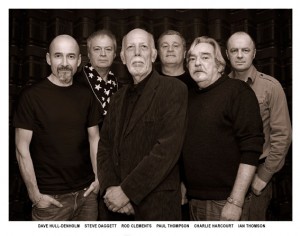 Legendary 70s folk-rock pioneers LINDISFARNE return to form with a classic six-piece line up of long-time members fronted by original founder-member Rod Clements on vocals, mandolin, fiddle and slide guitar.
With a repertoire of unforgettable songs like Meet Me On The Corner, Fog On The Tyne, Lady Eleanor and Run For Home and a reputation for live performance second to none, LINDISFARNE's power to galvanise festival and concert audiences remains undimmed and is guaranteed to get the crowd on its feet and singing along.
LINDISFARNE 2018 are:
ROD CLEMENTS (1969-present) Vocal, mandolin, fiddle, guitars
DAVE HULL-DENHOLM (1994-present) Vocal, guitars
STEVE DAGGETT (1986-present) Vocal, keyboards, guitars
CHARLIE HARCOURT (1973-present) Guitar, vocal
IAN THOMSON (1995-present) Bass, vocal
PAUL THOMPSON (ex-Roxy Music) Drums
This show is Unreserved Seating.

You can find all our shows on Facebook: www.facebook.com/oeplive. Please do take a look and Like our page.
Sunday, 18th March 2018
Show:
7.30
PM Doors: 6:45 PM
Tickets:
£29.00
(inc booking fees)