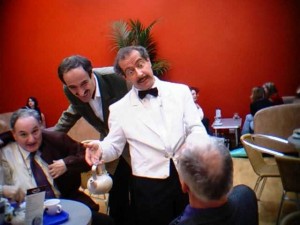 For one night only, Best Western Ipswich Hotel becomes Fawlty Towers.
FAWLTY TOWERS, the classic sitcom created by John Cleese and his then-wife Connie Booth (they split up between the first and second series), lasted only 12 episodes (a series in 1975 and another in 1979) but numbers itself among the most beloved series in British comedy history.  The writing, the performances, the sheer manic energy of the series make every episode a classic. It doesn't get much better than this.
Join us for an evening of all the fun and mayhem of the original TV episodes in this tribute meticulously and lovingly re-created in sound and vision, whilst you are enjoying a delicious three course meal.
Hosted by Basil Fawlty, his long-suffering wife Sybil and the confused, loyal, waiter Manuel.
NO RIFF-RAFF!  EVERYTHING THAT CAN GO WRONG WILL....AND DON'T MENTION THE WAR.
You really won't want to miss this evening full of fun – early booking advised.
MENU
Soup
***
Breast of Chicken, bacon lardons & thyme jus
Or
Baked aubergine stuffed with roasted vegetables & goat's cheese  
Panache of vegetables, roast potatoes
***
Lemon tart with crushed raspberries
***
Coffee & mints
If you would like to order the vegetarian option or have any allergies that we need to be aware of, please contact Susan Stock at susan@oeplive.com
Why not catch our late night show over in the Suffolk Suite - Sing Baby Sing are ready to entertain you further and will take to the stage at 10pm.  
(late 70's old school disco until) 1am
Sing Baby Sing presents THE STYLISTICS GREATEST HITS - recreated perfectly and passionately in sound and vision.  
The hits just keep on coming all night long with, Rockin' Roll Baby, I'm Stone in Love with you, You Are Everything, Can't Help Falling In Love, Sing Baby Sing, Star of a TV Show, Let's Put It All Together, and many many more!  Special discounted price £20 (inc booking fee)
And if this is not enough, we have secured some hotel rooms at a special rate including breakfast so why not consider staying the night.  £74.50 will get you a double occupancy bedroom including breakfast.
All disabled bookings to be made directly with the Box Office - 01256 416384.
You can find all our shows on Facebook: www.facebook.com/oeplive. Please do take a look and Like our page.
Saturday, 24th November 2018 
Show: 7.30PM Doors: 7.00 PM
Tickets: £39.50 (inc booking fee) Options: Hotel Room for 2 inc breakfast £74.50 / Late Show £20.00