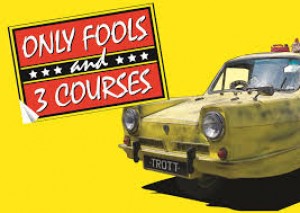 Join us for the Dinner event of the year which combines fine food and comedy action, served up ONLY FOOLS AND HORSES  style.  
Marlene & Boycie are hosting a Gala Dinner, but will things go to plan with Del, Rodney and Uncle Albert (when I was in the war) on the guest list?  Will Raquel put in an appearance and sing! Surely not after the last time?  Expect an evening of chaos and mayhem with extra large portions of comedy.  
This is a big fun night out in a friendly party atmosphere with some of the finest comedy actors in the land, professionally produced to the highest standards with your enjoyment at the top of the menu.  
CUSHTY.  YOU PLONKER.  MANGE TOUT.  LOVELY JUBBLY!
MENU
Soup
***
Breast of Chicken, bacon lardons & thyme jus
Or
Baked aubergine stuffed with roasted vegetables & goat's cheese
Panache of vegetables, roast potatoes
***
Lemon tart with crushed raspberries
***
Coffee & mints
If you would like to order the vegetarian option, please contact Susan Stock at susan@oeplive.com
Why not consider staying the night - we have secured a few rooms at a special discounted rate of £74.50 which gets you a double occupancy bedroom including breakfast.
All disabled bookings to be made directly with the Box Office - 01256 416384.
You can find all our shows on Facebook: www.facebook.com/oeplive. Please do take a look and Like our page.
Saturday, 10th November 2018 
Show: 7.30PM Doors: 7.00 PM
Tickets: £39.50 (inc booking fee) Options: Hotel Room for 2 inc breakfast £74.50