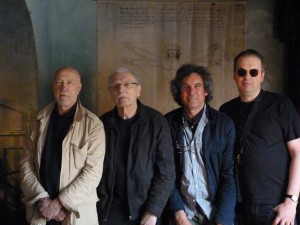 TICKETS AVAILABLE ON THE DOOR - ONLINE SALES NOW CLOSED



John Etheridge – guitarTheo Travis  - tenor sax, flute, keyboardsRoy Babbington - bassJohn Marshall  - drums
Soft Machine
is one of the greatest UK avant/jazz-rock bands of all time. Their work, from their earliest performances as a psychedelic band, who were contemporaries of, and shared stages with Syd Barrett's Pink Floyd and the Jimi Hendrix Experience, all the way to being one of Europe's best known 'fusion' bands has influenced several generations of bands, and continues to be name-checked by today's hip experimentalists.  
This is three quarters of the celebrated 70's version of the legendary group which recorded the acclaimed 'Softs' album in 1975, completed by outstanding sax star Theo Travis (Robert Fripp/David Gilmour/Gong). The band plays material from the era (compositions by Hugh Hopper, Mike Ratledge, Karl Jenkins) as well as many contemporary works, as featured on their brand new album '
Hidden Details'
, released in 2018, exactly
50 years
since the release of the band's 1968 debut album '
The Soft Machine'.
Whilst the line-up of
Soft Machine
may have changed many times since the heady days of the late 1960's, the band's spirit of musical adventure, and the ease with which it freely avoids being pigeon holed and can move from powerful progressive jazz fusion to atmospheric psychedelia to free improvised jazz-rock to ambient loop music continues to make it both unique and totally contemporary.      
"Soft Machine were the grooviest, coolest psychedelic band of the era..."                                                                              - Phil Manzanera"Soft Machine...certainly rank among the most influencial 'out' rock bands."                                                                                      – Dusted"Burden of Proof is, to put it mildly, absolutely exquisite. These are four musicians who are masters of their craft, and truly at the top of their game, not only as soloists but as contributors in an actual band. They've put together here a collection of songs that basically has something for everyone; challenging jazz-fusion, adventurous prog-rock, bits of chaotic free-jazz, atmospheric instrumental pop-jazz, and even a little hard rock. Extraordinary!"
                                                  5 stars. Pete Pardo.
Sea Of Tranquility.org
This show is unreserved seating.

All wheelchair users please book directly with the Box Office on  01256 416384.
You can find all our shows on Facebook: www.facebook.com/oeplive. Please do take a look and Like our page.
Tuesday, 20th November 2018 
Show: 
7:45
PM Doors: 7:00PM
Tickets:
 £22.00
 (inc booking fees)