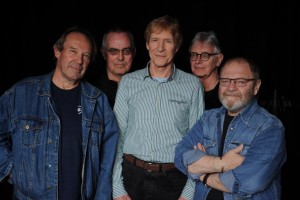 2019 sees The Blues Band Celebrate their 40th year together  
Paul Jones / Dave Kelly / Tom McGuinness / Rob Townsend / Gary Fletcher.
Many of the Blues Band's 21st century fans weren't even born when these five virtuosos, already music industry veterans, decided to fly in the face of musical fashion in 1979 and form a band 'just to play the blues'. No one could have predicted that, 40 years on, they'd still be dazzling audiences with their showmanship and virtuosity.
Over 20 albums and thousands of gigs later, they've earned a reputation around the world as one of the finest exponents of the blues tradition in all its forms.
With this line-up, it's hardly surprising. 
HISTORIC LAVENHAM is  one of the UK's most beautiful medieval villages located in the heart of Suffolk, in central East Anglia.  LAVENHAM CHURCH  is an Anglican Church serving an active and thriving community and attracts many thousands of visitors each year extending a warm welcome to all.  
This fantastic setting will be a Theatre style layout with unreserved seating as well as a Bar.  (Note: Toilets are limited within the Church but there are full toilet blocks within a 1 minute walk just on the edge and in the Church yard). Disabled requirements can also be catered for. Please mention any requirements upon booking.

Why not also stay the Night in Lavenham and experience the magic of Lavenham and surrounding areas . You will not be disappointed.  We recommend - 
www.lavenhampriory.co.uk
  01787-247404 –  Stay right in the heart of Historic Lavenham where you will be looked after in style and just a couple doors away from the house where Harry Potter was born !!
You can find all our shows on Facebook: www.facebook.com/oeplive. Please do take a look and Like our page.
Wednesday, 13th February 2019Show:
 7.30PM Doors: 6.45PM 
Tickets:
 £32.45 (inc booking fee)