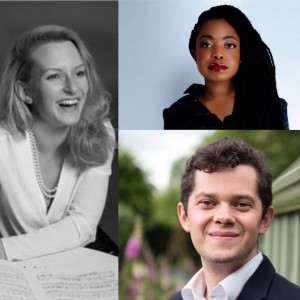 Soprano: Francesca Chiejina
Tenor: James Way
Piano: Natalie Burch
100 years on from the end of the First World War, Opera Prelude's prize winning Young Artists invite you to an evening gala event at Leighton House, celebrating English Song and in particular the work of William Denis Browne who, whilst at Cambridge, was in the chorus of the
Wasps
 (1909) which famously featured music by the up-and-coming Ralph Vaughan Williams.  He also played through
Hugh the Drover
and
On Wenlock Edge
whilst Vaughan Williams was still working on them.
Vaughan Williams wrote Browne a reference describing him as having "a most musical nature and his artistic judgment and perception are remarkable".  
William Denis Browne (1888 – 1915) was a British composer whose fantastic song output was cut brutally short by his death during action in the Gallipoli Campaign. He was a long-term friend of the poet Rupert Brooke. The two were sailing together in the
Grantully Castle
when Brooke contracted septicemia and died. Browne buried his best friend on the Greek island of Skyros, writing that 'no one could have wished for a quieter or a calmer end than in that lovely bay, shielded by the mountains and fragrant with sage and thyme'.  It is impossible with this knowledge not to imagine that Browne had Brooke in his mind when he set William Sharp's text 'The Isle of Lost Dreams'.  
This inimitably expressive concert programme places Browne's rarely performed song repertoire alongside that of other English song composers in and around the years of the First World War. English song is readily celebrated for its simplicity, pastoral nature and warmth of colour, so to explore this, 100 years on, in the light of the global trauma out of which this art form sprung, is a very delicate and poignant task. We invite our audience to journey with us, through the beauty as well as the pain that is echoed in this rich and varied music.  
Taking Browne's
Isle of Lost Dreams
as a starting point, the programme explores the panoply of different responses to the war, and their reflections – sometimes comforting, sometimes uncanny – within the parallel world of dreams. The theme of sleep, of being lulled into a dream-like state, is ever-present in WWI poetry, and stands in stark contrast to the political and personal chaos that reined during those four years. We hope to give life to the lesser known, but enduringly beautiful music inspired by the war, and thereby pay homage to all those who fell and are not forgotten.
Thursday 11th October, 7pm – 9pm (doors open at 6:30pm)
Tickets
£40