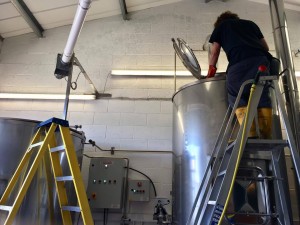 This is a hands-on experience, where you can get as invovled as you wish. We will be brewing 3000 pints of beer, which will be ready to drink around 3-4 weeks later.

You may arrive (and leave) at anytime during the day. We start the brew at 7am with 'mashing in' the barley. Then there's not a lot to do for an hour or so. If you really want to see the whole process please arrive for 7am. Otherwise 8.30am is a good time to see the rest of the process, which is continuous.

Because the day includes ample beer tasting, most guests choose to get a ride to the brewery.

If arriving by car turn into Trecerus Industrial Estate from the B3276, where you see the Texaco petrol station. Then take the next left and we're 100 meters ahead, on the right. Parking can be tricky. Do your best please to not block access for other vehicles.

You can walk from Padstow, it'll take around 20-30 minutes depending on fitness (it's all uphill!). Anyway you'll certainly work up a thirst. Best to walk on the B389 passed Tesco, then turn right onto the B3276. Caution - there are no footpaths on this road.

Sadly there are no regular bus services to the estate. If you are using the Park and Ride you are about halfway to us.

Taxis do exist in Padstow. Trouble is there aren't many and in peak times they can be busy, so best to book a few days ahead. We've never heard of Uber.