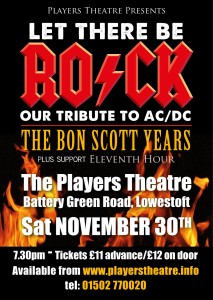 LET THERE BE RO/CK - The brainchild of a drummer... It says a lot!
Steve has loved AC/DC for a long time and always had the ambition of putting together a really great tribute to, what some describe as, the classic AC/DC lineup - when Bon was king! So that's exactly what he did.
He got together a bunch of blokes he happened to know, who also happened to be great musicians, who also happened to love AC/DC... Sometimes you just get lucky!
It started with a one off gig, The gig sold out! The crowd went nuts! So the band said, maybe we should do that again? Next time it sold out too! There seemed to be a pattern forming.
Now here we are with LET THERE BE RO/CK bringing back the old school rock of AC/DC with a blistering set stuffed full of all the best tracks from the iconic Bon Scott Era including; "Highway To Hell", "Whole Lotta Rosie", "Let THere Be Rock", "Rock 'N' Roll Damnation" plus all their other live favourites.
For more info check out the website, www.letthereberockuk.co.uk, better still check the gigs page and come see us in the flesh!