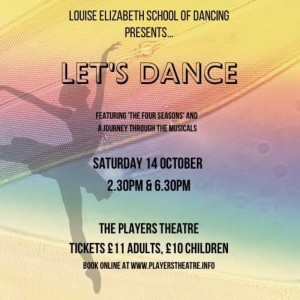 Saturday 14th October 2023Tickets
 £11.00 / £10.00
Plus theatre development fee
After a longer break than expected, once again the students of The Louise Elizabeth School of Dancing return to the stage. Many of the students are familiar with performing at the Players Theatre, but for some this will be their first experience of being on stage.
A show in two acts: Act I  features extracts from Vivaldi's Four Seasons. Then in Act II enjoy a whistle stop tour through some of the West End and Broadway's Musicals.  A show for all ages - Sit back and enjoy!
Please contact the box office for wheelchair & companion seats.