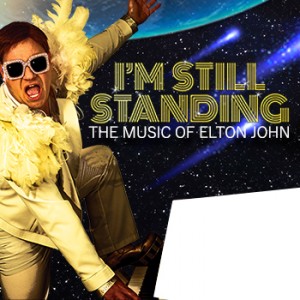 I'm Still Standing – The Music of Elton John
is a musical celebration of the legendary 50 year career of Sir Elton John. Featuring all of his greatest hits performed by the outstanding Joel Buckingham and backed by an amazing live band.
No show about Elton John would be complete without the outrageous outfits and glasses which have become a signature of his live shows from the early 1970's right up to the modern day. Elton John has sold over 366 million records and is also credited with the biggest selling single of all time. His unique blend of pop and rock styles turned him into one of the biggest icons of the 20th century.
Alongside his stellar solo career he has also found time to compose scores and songs for several West End Musicals including the award winning Billy Elliot and movies such as the much acclaimed The Lion King. He was inducted into the Rock and Roll Hall of fame in 1994 and knighted in 1998.
Joel Buckingham takes on the task of recreating the Elton John live experience. Joel was born with a similar timbre to Elton John and just like his hero began piano lessons as a child. A decade on cruise ships as a professional musician saw him hone his craft and in the ensuing years he has performed worldwide as Elton John.  
With one of the hottest bands in the UK comprising of
hand picked
musicians at the top of their game and a camaraderie that is evident in both their playing and performance on stage. The band members have performed with the Johnny Cash Roadshow, Tears for Fears, We Are the Champions (West End Show) and many more. The show features both live and studio arrangements of Elton John's performances carefully arranged by experienced Musical Director Martin Bentley.
Show producer Ash Sethi ensures that both the performance and staging are of the highest level in order to further the impression of watching the real Elton John live. The challenge of writing a show that covers 5 decades and multiple costumes was blending it all together.
This has been achieved with strong imagery throughout the show aided by the use of projections both on the screen and even the piano itself. Recreated audio snippets add to the atmosphere of each decade and combine with the visuals to set the perfect backdrop for each era of Elton John's long career.
The show takes you through an incredible legacy of great songs and music and features all the hits including
Crocodile Rock, Rocket Man, Candle in the Wind, Don't Go Breaking My Heart, Sacrifice, Daniel and The Circle of Life.
Showreel - 
https://www.youtube.com/watch?v=DykvoxtrdPQ​​
Reviews
"Amazing tribute to Elton John."
Mark Ritchie - The Stage
"6000 people just had a great night!"
Claire Watson - Alexandra Palace
"Joel's performance as Elton John is staggeringly close to the real thing."
- The Weekly Herald
"At the end of the show the audience rose to their feet for the ovation, they didn't want it to end."
- The Daily Post
Sunday 14th November 2021 - 19:30
Tickets
£24.50