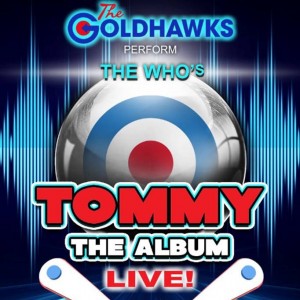 50 years after The Who's ground-breaking rock opera, "Tommy" was released, legendary rock band, The Goldhawks prepare to dazzle audiences with their brand new production, "The Goldhawks perform TOMMY - the album, LIVE!"
This 50th anniversary production celebrates a ground-breaking moment in rock history; Tommy tells the fascinating and complex story of a "deaf, dumb and blind" boy and his extraordinary life experiences.
Following their smash hit UK tour of Quadrophenia, world-class band, The Goldhawks, return to perform Tommy as an 8-piece outfit backed with amazing projection, stunning special effects and a superb replication of The Who's sound.
"Superb - Rock Opera perfection"
Time Out
"Absolutely first class.....Having toured with The Who for 10 years I can safely say that this band is the next best thing and the closest you will ever get to the real thing."
Wolfy Foxlow, close friend of Pete Townshend and Roger Daltrey
"I have seen the Who 20+ times since 1969 at the Isle of Wight festival and The Goldhawks performance was wonderful. They performed just like the actual Who, absolutely brilliant."
Long-standing Who fan Roger CliffordSunday 23rd February 2020 - 19:30
Tickets
£24.50