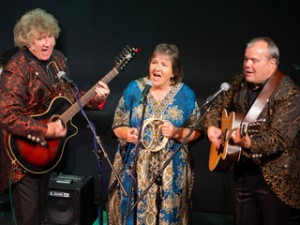 Do you miss the real sound of the Seekers, Peter, Paul and Mary and The Springfields ?  
The Settlers
, one of Britain's favourite pop/folk groups from the 60's and 70's are now back, not a 'TRIBUTE', but the real thing. Back with a new album and live show, entertaining the old fashioned way.  If you remember the 70's TV show "Follyfoot", the theme song The Lightning Tree was their greatest hit.  
Why bring it back now?
When
The Settlers
disbanded in the early eighties, Steve and Patty were the go to backing vocalists for everyone from Johnny Cash to Don Everly, Lulu to Tom O'Connor on TV, radio and tours, they were long time members of The Pete Sayers band, then went their separate ways. Steve went to France to play western swing and country, Patty to play Tex Mex all over the U.S and Europe.  So, now settled in Lincolnshire, they ended up living close to each other and people just kept saying " when are you going to start singing those lovely songs together again?"  
So here we are today and
The Settlers
are back  
There are two new members, Dave Smith, on guitars and vocals, who replaces Mike Jones, the founder member who sadly passed away many years ago and Tony Harris, on bass, veteran musician and recording engineer.   
The new album
'Resettled'
is out now on iTunes, Apple Music, etc. with brand new recordings of some old favourites, some  new self penned songs all with the classic sound of
The Settlers
CREDITS
ITV Series - "The Sound Of The Settlers" 
Border TV - "Singout with The Settlers"
P&O Cruising - cabaret 
World Tours with London Management
BBC Radio 2 - Country Meets Folk
BBC 2 Television - The Electric Music Show series 1 & 2
BBC TV - Pebble Mill - Snape Maltings series – Many music series' Live from Shepherds Bush Empire
BBC TV - Music series with Don Everly, Lulu, Frank Ifield, Tom O'Connor
BBC Radio 2 - multiple radio session as Steve & Patty with band
Toured with Glen Campbell - Johnny Cash Show – Lonnie Donegan, Billie Jo Spears 
Links
www.thesettlers.co.uk
www.facebook.com/thesettlers2018
https://soundcloud.com/dave-smith-25/09-im-a-believer
https://soundcloud.com/dave-smith-25/13-loves-here-to-stay
https://soundcloud.com/dave-smith-25/looking-at-me-phone
https://soundcloud.com/dave-smith-25/11-live-to-love-mar-8
https://soundcloud.com/dave-smith-25/lightning-tree
Wednesday 13th October 2021 - 14:00
Tickets
£20.00