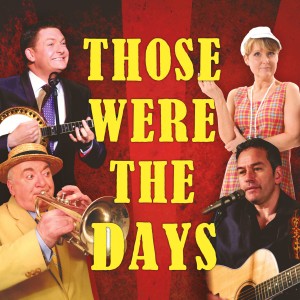 Celebrate a golden era of music and laughter as we remember the songs and stars of the 'fabulous fifties' and 'swinging sixties!' 
This sparkling, foot-tapping, feel-good show evokes the wonderful mix of entertainment that accompanied the optimistic youth of the postwar generation, and is packed with nearly fifty singalong hits. 
Musical entertainers ANDY EASTWOOD and PETE LINDUP bring us songs from not only the rock & roll stars like Bill Haley and Buddy Holly, but variety artists such as Morecambe and Wise, and even George Formby, while vocalist MAGGIE O'HARA pays tribute to Connie Francis, The Seekers and Doris Day. They are joined by special guest star LONNIE DONEGAN JNR, son of the legendary 'King of Skiffle', so influential in the British music scene. Lonnie will bring back nostalgic memories of his father with all the big hit songs. 
Accompanied by the DAVID CARTER BAND, this will be a memorable afternoon of wonderful live music and variety. Why not bring a party?
WATCH PROMO VIDEO HERESunday 22nd May 2022 - 14:30
Tickets
£18.00 / Concessions £16.50 / Buy 10 and get 1 Free - available by calling the box office