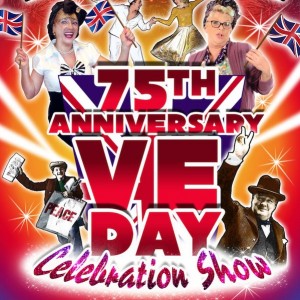 When VE Day dawns on 8th May 2020 it will be 75 years since the guns fell silent at the end of the war in Europe. Years of carnage and destruction had come to an end and millions of people took to the streets to celebrate peace, mourn their loved – ones and to hope for the future, but not forgetting those still in conflict.
To celebrate this we have a great show lined up for theatres in 2020, the 75th Anniversary VE Day Celebration show starring Crissy Rock & Leah Bell with full supporting company.
A stroll along memory lane to a time when ordinary people had to perform extraordinary tasks during the harrowing times of War torn Britain.
What better way to join in with the 75th VE Day celebrations than having a Right good old Knees Up with the cast of this feel good performance packed with sing-along memories, show stopping scenes and comedy sketches.
Guaranteed to get your spirits soaring, your hands clapping and your voices bellowing out, these timeless classics bring you to our rousing flag waving finale.
Wednesday 20th May 2020 - 14:30
Tickets
£19.00