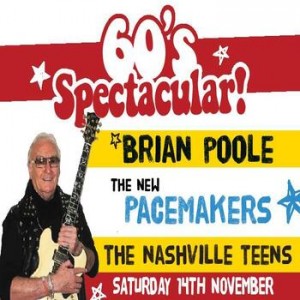 Topping the bill and making a " rare" appearance is the legendary Brian Poole....Brian ( together with the Tremeloes) ,,,,enjoyed a whole string of hits including Twist and Shout, Someone Someone, Candy Man and ofcourse Do You Love Me!
To this day Brian is regarded as one of the true gentlemen in the business ...
Backing Brian on this occasion will be the New Pacemakers, featuring Peter Thompson who toured the world with Gerry Marsden.
In addition to backing Brian the New Pacemakers will be peforming many of Gerry's hits! Along with other sixties classics.
Special guests and indeed making a very rare appearance outside of London will be the Nashville Teens, still featuring founder member Ray Phlliips who is regarded as the finest rock vocalist from the 60s era, Ray actually turned down the opportunity of being the lead vocalist and frontman for Cream when Jack Bruce was forming the band!
Ray now features the finest musicians from the 60s in the Nashville Teens and together they will be performing the Teens most memorable hits in including Finding My Way Back Home , Little Bird, Google Eye and their worldwide smash hit Tobacco Rosd!
If you love the 60s then this is the one 60s show not to be missed!
https://www.youtube.com/watch?v=W0WmZYHCvUc
Saturday 14th November 2020 - 19:30
Tickets
£26.00