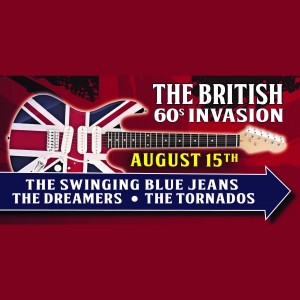 A night of non-stop hits awaits you with
The British 60s Invasion
.
THE DREAMERS
(ex-Freddie and the Dreamers) featuring Alan Mosca who toured the Middle East, Europe, Australia and the USA with Freddie, appearing at such iconic venues as Madison Square Gardens in New York.
THE DREAMERS
will be featuring many of Freddie's greatest hits such as, 'You Were Made For Me' 'l'm Telling You Now,' 'If You Gotta Make A Fool Of Somebody' and the heart rendering 'l Understand!
The fabulous
SWINGING BLUE JEANS
join this show. Famous of course for such memorable hits as, 'You're No Good', 'The Hippy Hippy Shake' and 'Good Golly Miss Molly'.
The band today features long standing member Alan Lovell, who before joining The Swinging Blue Jeans toured and recorded with Marty Wilde, Denny Laine and P.J. Proby.
Also, back by popular demand are
THE TORNADOS
. The 60s band who have proved to so popular with sell out shows. THE TORNADOS today include the sensational
Jamie Thurston
who performs such amazing Billy Fury songs such as 'Halfway to Paradise' in the show.
THE TORNADOS
of course had a million selling worldwide hit with the iconic
TELSTAR
.
THIS show is bound to be popular with so many great acts performing so many memorable hits, so book early!
Saturday 21st August 2021 - 19:30
Tickets
£26.00