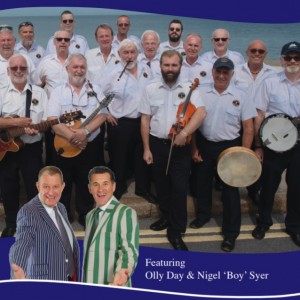 With guest stars Olly Day and Nigel 'Boy' Syers.
The Sheringham Shantymen were launched in 1990 and this year they will be celebrating their 30th Anniversary with a number of special concerts around Norfolk.
The Princess Theatre is proud to support this year of celebration for this popular and famous North Norfolk group who continue to support the RNLI in a myriad of ways, performing at lifeboat stations around the United Kingdom and Ireland and are immensely proud to be allowed to sport the RNLI logo within their badge.
In 2015 they celebrated their 25th anniversary and completed three special charity concerts, two in Sheringham and one in Cromer Pavilion Theatre. It was a great year which they enjoyed immensely and they gave their profound thanks to the people of Norfolk who have supported them throughout. They have given a charity concert every year since at Cromer Pier and now feel they are ready to inflict their renditions of Maritime music to the great and the good of Hunstanton. 
2016 was a year of transition as we welcomed some new younger blood into our midst and these will help develop new ideas and new ways for the future as well as reducing the average age by decades!
The Shantymen purchased a 'D' Class Lifeboat for the RNLI at Wicklow in 2007 named
'The Sheringham Shantymen'
. They have travelled widely throughout the UK, France, Germany, Virginia USA, Ireland & Holland. They have entertained at Maritime Festivals at Great Yarmouth, Bristol, Lincoln, Ipswich, Southampton, Portsmouth, Harwich and Falmouth. They have also sung at the International Boat Show at Earl's Court, 'The Big Breakfast Show', 'Children in Need', & 'Blue Peter' for which they have 'the Badge'. More recently The Shantymen have performed on the BBC's the 'One Show' and 'Country file' and ITV's 'Ade in Britain'.
Since 1990 the group has completed over 1,000 public performances, made three videos and recorded 7 CDs. 
Friday 3rd September 2021 - 19:30
Tickets
£16.50