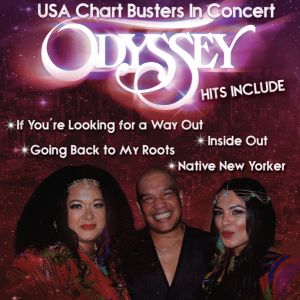 Odyssey is an American disco/soul group, formed in 1968 by three sisters: Carmen, Lillian and Louise Lopez.
After brilliant performances in bars and little clubs, they caught the eye of a New York agent, who booked them on a five-month tour of Europe. Soon Carmen dropped out and Manila-born male vocalist Tony Reynolds joined Lillian and Louise.
Between 1977 and 1982, Odyssey scored several hits including the top 5 hits "Native New Yorker", "Use it up and wear it out", "Inside out" and "Going back to my roots", a song originally released by African-American artist Lamont Dozier.
Still popular in UK, the group, now led by Lillian's son Steven Collazo, world-travelled song stylist Jerdene Wilson and recording artist Romina Johnson, continue to tour and record new music.
Saturday 30th May 2020 - 19:30
Tickets
£32.00