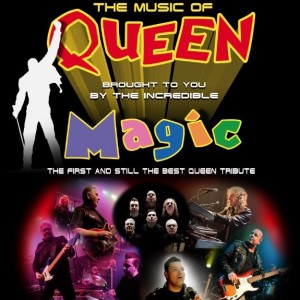 Queen members Roger Taylor and Brian May announced a tour with Adam Lambert in 2020 and we are pleased to offer Magic touring Theatres, no gimmicks, no Freddie Lookalike or anyone trying to be Freddie Mercury, (I suppose the same with Adam Lambert) but paying tribute to the music of Queen and no one delivers the music of Queen like Magic do - they have been told on occasion they deliver it better than Queen...all opinions of course!
The Original and Still THE BEST
From "Seven Seas of Rhye" to "Made in Heaven" Magic will take you on a musical journey through the History of Queen.
Freddie Mercury and Queen produced many hit records throughout their career and Magic give you a show covering many of these wonderful pieces of music in a Rock n Roll concert played as only they can.
They will recreate the fantastic vocals and musicianship of Queen and tell a story of one of the greatest bands ever.
Magic are no strangers to the big stage. Over the years they have played Gorky Park in Moscow, Hong Kong, venues in the Middle East and Central America. Closer to home they have played twice at the London Palladium and many theatres and concert Halls all over Britain.
Now with a new line up including a dynamic new lead vocalist, Taylor Payne, join Magic with their new show.
Saturday 16th July 2022 - 19:30
Tickets
£23.50 / £21.50