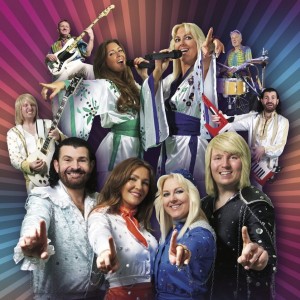 Over 46 years since their iconic Eurovision win spring boarded them into superstardom, come and join us as we celebrate one of the biggest selling pop bands of all time - ABBA.ARRIVAL's multi award-winning show is returning for 2021 following sellout shows in over 20 countries worldwide, bringing the magic of ABBA to stages across the UK.
Talking about the show, Benny Andersson performer Mark says: "We have been performing as ABBA for over 20 years now, and the show has evolved quite a lot. Over the years we have added more and more songs and costumes, and we are constantly striving to make the show bigger and better with each year. We love it. We really enjoy every minute." Mark says: "The music of ABBA appeals to all age groups because it's joyful and infectious. You just can't help smiling when you hear the first few bars of Dancing Queen or Mamma Mia.
ARRIVAL - The Hits of ABBA is an energetic, upbeat, vibrant, colourful and spectacular extrABBAganza! A non-stop party and a great night for all the family. "The high-energy production features ABBA's best loved hits including 'Mamma Mia', 'Dancing Queen', 'Super Trouper', 'Voulez Vous',and of course 'Waterloo', plus many more! With a winning formula of fantastic harmonies, authentic costumes and first-class vocals and musicians, ARRIVAL brings to life the extraordinary song-writing talents of Benny and Bjorn, recreating the true feel and thrill of a live ABBA show.
Saturday 4th September 2021 - 19:30
Tickets
 £26.00