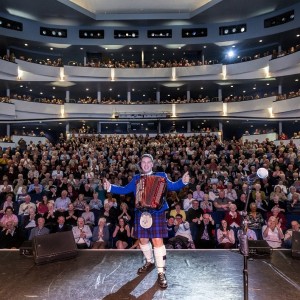 The Brandon McPhee Experience
We've all had different experiences throughout our lifetime, but
The Brandon McPhee Experience
is one we can guarantee you will not forget. Scottish Accordion Champion
Brandon McPhee
takes his own "Brand" of music to a new level in this highly acclaimed theatre show which already has received great reaction and reviews throughout the UK and Ireland. Award winning
Brandon McPhee
and his 5-piece band covering traditional Scottish, Folk, Country, Irish and much more in this show.
Manson Grant
of "Manson Grant and the Dynamos" fame, plays keyboard in the band and sings some songs throughout the evening. Manson represented Scotland in Nashville part of the Country Music Hall of Fame "Fan Fair" and was backed on that occasion by the Jordanaires who performed with Elvis Presley.
'Walking on Waves' - Irish megastars Foster and Allen joined Brandon with this single - view on
Facebook
Released 3 months ago - the first week in December was a No1. in the Joyce Ramgatie International Country Music Chart. This chart is based on airplay 
http://www.countrymusicchart.net/
Tony Allen
from Foster and Allen will be joining Brandon as special guest. Tony and Brandon toured BBC radio stations earlier this year doing interviews promoting the single 'Walking On The Waves'.
Brandon McPhee
recently began to tour his stage show in response to demand following 5 sell-out shows in 4 years at Eden Court Theatre, Inverness, 1045 in Perth Concert Hall, and Glasgow Royal Concert Hall a sell-out of 500 in the New Auditorium - to name a few.
At 17 Brandon won the All Scotland Senior Accordion Championship on his 3 row Shand Morino accordion. The youngest ever to win this victory. He is a 3 times gold medallist in the Royal National Mod. He is a firm favourite with guest appearances for HRH Prince Charles and members of the Royal Family. Brandon is also known for presenting the Television programme on Spotlight TV "Caithness Music's Brandon McPhee Hour" Thursday at 4pm on SKY376, Freesat 516 and streamed live on the web. Also, around Manchester on Freeview.
'A hugely entertaining mix of accordion tunes and songs covering many genres of music and is absolutely not to be missed.'
Sun 15th Sept: Sue Marchant, BBC East Anglia, live in the studio 8.30pm (Radio)

What the audience say!

'We were in the Perth audience last night, thoroughly enjoyed it! Was with my wife and 8yr old son and 13yr old daughter they both loved the show and you done a great job. We came home and booked tickets for the Stirling show in October.'
John Chater

'A show not to be missed by anyone. Brilliantly put together and delivered. You won't be disappointed.'
Robert Whitehead

'Great performance by yourself, Brandon and your band, thoroughly enjoyed the show.'
Caroline Harkness

'Great show Brandon well done.'
Cyril Thompson

'What a night it was in Musselburgh fantastic it was worth our 3 hour trip from Cumbria just sorry we didn't get a word with you hopefully you will be coming back to Langholm keep our fingers crossed. All the best for the coming year Brandon, you deserve it.'
Connie Ridley, Brampton, Cumbria

'Great night, thank you Brandon and your band.'
Dave Taylor

'Saw Brandon last night in Musselburgh what an amazing show such a talented lad.'
Kathryn Reid

'Thanks Brandon for another fantastic night brilliant as always xx'
Pat Mennie

'What a show! Went with daughter Sandy last night and had the privilege of meeting Brandon afterwards, for a chat and came away with a signed copy of his latest CD, which was specially produced for the show. Brandon is a quite simply, awesome accordionist!! how the famous Shand Marino box was designed by Jimmy Shand and produced in a joint venture with head engineer Venanzio Morino of Hohner in 1939! How proud must Brandon feel as that is the very accordion he now plays in the show!! I would suggest that any lovers of the accordion and Scottish Music out there, should try to get along to the show! You will NOT regret it!'
Alexander StrakerSunday 26th June 2022 - 19:30Tickets
 £21.50