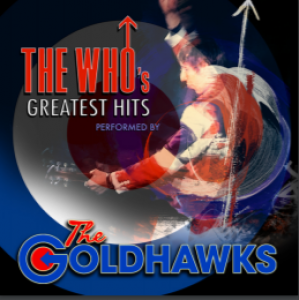 A truly high-calibre tribute to The Who - The Goldhawks prepare to rebel-rouse audiences with their brand new production of The Who's Greatest Hits. The Goldhawks are acclaimed to be one the finest live bands touring the UK today.
Following their UK tour of 'Quadrophenia - the album, LIVE!' with standing ovations in every theatre they performed, world-class band, The Goldhawks, return to deliver The Who's Greatest Hits as an 8-piece outfit with an amazing replication of The Who's big sound. Be ready to lose yourself in the power of songs such as 'Won't Get Fooled Again,' 'Baba O'Riley,' 'My Generation,' 'Who Are You?' '5:15,' 'Love Reign O'er Me' and many more classics from The Who's massive catalogue.
The Who are considered to be one of the most influential rock bands of the 20th century, selling over 100 million records worldwide including the ground-breaking rock operas 'Tommy' and 'Quadrophenia' with 'Live at Leeds' widely lauded to be the best live rock band album of all time.
Some reviews:
"They
ARE
the fabulous WHO, saw them in [Princess Theatre] Hunstanton, and what a show they put on, they were Great, can't wait to see them again."
(Jenny Meeks)
"….. the show was a Who fans dream. Great musicianship and for a couple of hours The Goldhawks WERE The Who…" 
(Simon Jellis)
"Astounding, amazing band. As close to The Who as you'll ever get!"  
(Phil Daniels, lead actor Quadrophenia film)
"So far beyond a mere tribute band, superb musicianship and sound quality fused with infectious enthusiasm. A great night." 
(Andrew Marr, BBC TV)
"Absolutely first class.....Having toured with The Who for 10 years I can safely say that this band is the next best thing and the closest you will ever get to the real thing."  
(Wolfy Foxlow, close friend of Pete Townshend and Roger Daltrey)
"I have seen the Who 20+ times since 1969 at the Isle of Wight festival and The Goldhawks performance was wonderful. They performed just like the actual Who, absolutely brilliant."  
(Who fan Roger Clifford)
"5hrs on the motorway well worth it.....had a great night....fantastic!!"
(Sue Bushby, Bedford)
"An incredible show. Everyone was on their feet at the end for a standing ovation."
Martin Green, St Albans)
Sunday 31st October 2021 - 19:30
Tickets
 £25.00