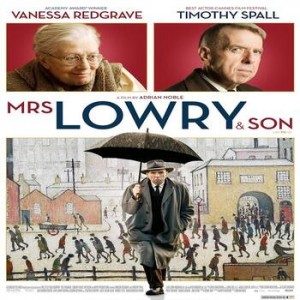 A portrait of the artist L.S. Lowry and the relationship with his mother, who tries to dissuade him from pursuing his passion.
CLICK HERE 
TO WATCH THE TRAILER
Rated PG
Running Time 1hr 31mins
Tuesday 29th September 2020  - 19.30Tickets £6.00 
SOCIAL DISTANCING SEATING APPLIESCINEMA COVID 19 UPDATE
Please wear your face masks inside the auditorium. 
Due to the restrictions and social distancing measures in place there are a few new guidelines that need to be adhered to for a safe cinema experience.
All tickets are £6. 
Film Club Memberships have been suspended and will be carried over and reinstated once things get back to some normality
. We encourage booking your pre-purchased tickets online via our website, but you will be able to purchase tickets from the box office on the night if you are unable to do this. The new social distancing seating plan is now in use, where you choose your seats and the computer automatically removes 3 seats either side of your selection to adhere to our social distancing policy. Your tickets will be sent to you directly via the email address that you have supplied when booking and you can either download your tickets to your phone or print them out and show them on arrival. By booking online only also means that we have a safe and secure track and trace system implemented.
Please sanitise your hands on arrival via the outlets available throughout the foyer.
The auditorium will be open from 
1 hour before
 the film starts so to relieve the amount of people queuing in the foyer or outside the venue. If you must do this, please keep queuing social distancing measures in place.
You will enter the auditorium through the main double doors at the confectionary counter for stalls seating. This will be open for you to purchase sweets and drinks, or you can choose to sit upstairs in the circle, which can be reached via the stair case by the ladies toilets.
Once the film has finished, if you are in the stalls you will then exit via the double doors down by the front of the stage through to the bar area, and will use the exit door which leads onto the terrace. If you do wish to have a drink in the bar, then you must follow the bar procedures and the social distancing measures that are in place.
If you are situated in the circle then you will exit via the double doors to the right of the auditorium and down the back staircase which brings you out opposite the confectionary counter and into the main foyer by the box office. The big orange double doors in front of you will be your exit leading onto the terrace.