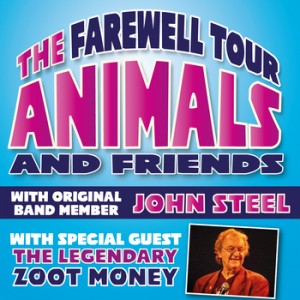 The Animals were one of the most iconic pop, rhythm and blues bands of the 1960's. They had over 20 global top ten hits, and remain a seminal rhythm and blues band who still commands great respect.
We are delighted to announce that appearing will be the legendary R & B artist ZOOT MONEY, who was also a member of The Animals during the 60's and 70's, and Barney Williams (Otherwise known as Boogie Williams) who had chart success back in the 1980's with The Milltown Brothers, and has played with Chuck Berry many times down the years. The show will also feature original founding member John Steel on drums.
They gave us such huge hits such as We Gotta Get Out Of This Place, Don't Bring Me Down, Baby, Let Me Take You Home, Don't Let Me Be Misunderstood and their multi-million selling anthem…..House Of The Rising Sun.
Now on their farewell tour, hear all the hits and more, with songs from the likes of Ray Charles and John Lee Hooker. A night of nostalgia, great memories and smash hits.
WATCH PROMO VIDEO HERE
Friday 17th June 2022 - 19:30
Tickets
 £29.00