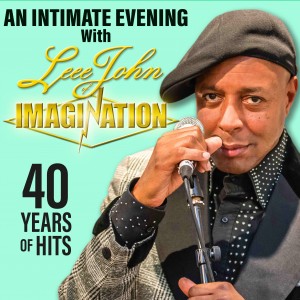 In 2021 to celebrate the 40th year of
Imagination
Leee John will be performing an intimate evening of songs and conversation accompanied by his guitarist and keyboard player.
With a remarkable career spanning over 3 decades and with record sales in excess of over 30 million albums the incomparable Leee John and his group
Imagination
released and successfully had so many amazing classic hits singles and platinum, gold and silver albums such as,
Body Talk, Just An illusion, Flashback, Music and Lights
and
Changes
establishing their position as essential 80's crossover hit-makers and an influence for future generations.
Even today the story of Imagination's music continues in the form of a long list of samples, remixes and adaptations by major contemporary stars. Such as the THE PHARCYDE, DIMITRI from Paris, Destiny's Child (Complete with Beyoncé) sampled Just An Illusion on their 1998 self-titled debut album produced by WYCLEF JEAN, with Leee himself featured on DJ Dero's 2005 rendition of the song which was widely played in clubs. Even America superstar Maria Carey recorded "Illusion" on her top ten single "Get Your Number". Furthermore we see Flashback being sampled by Boards of Canada, Music & Lights by Tiger & Woods. All Night Loving by 88 Keys featuring Kanye West.
Sunday 20th February 2022 - 19:30
Tickets
 £21.50