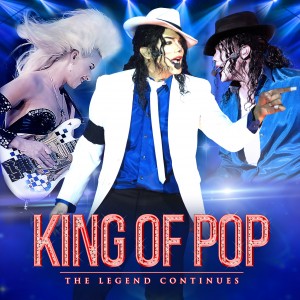 This incredible production stars the world's leading MJ tribute artist Navi who is joined on stage by Michael Jackson's iconic guitarist - Jennifer Batten.
Navi is regarded as the world's No.1 MJ tribute artist and was handpicked by Michael himself as his official body double.  Michael also hired Navi to perform at two of his birthday parties where he gave Navi a standing ovation and described his performance as "Incredible".  This year Navi was also chosen by Hollywood and received critical acclaim after starring as Michael in the new MJ movie "Michael Jackson – Searching For Neverland".
Jennifer was Michael's "right-hand woman" on three sell-out world tours.  She was initially chosen to play on the Bad Tour but Michael was so impressed that she joined him on the road for the next 10 years, playing on his Dangerous and History world tours to more than 4.5 million fans worldwide.  She also appeared on the famous Super Bowl performance.
Now, Jennifer has teamed up with Navi for an unforgettable experience - taking fans closer than ever dreamed to an original MJ concert.  Featuring all the greatest hits along with an incredible live band and dancers
Saturday 13th May 2023 - 19:30
Tickets
 £24.50