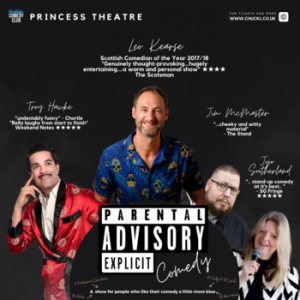 Explicit Comedy.
A stand-up show for people who like their comedy a little more blue.
Three professional comedians and an award-winning compere. Acts too rude for our club nights.
No subject off limits, no bars help, what could possibly go wrong? Prepare yourself for an hour and a half of gut-wrenching explicit comedy.
With Leo Kearse, Troy Hawke, Jojo Sutherland and Jim McMaster
Leo Kearse
Scottish comedian Leo Kearse is part of the new wave of raw, bold, American-inspired comedians taking the big UK clubs by storm. His "Extinction Rebellion" video slamming woke lefties went viral, selling out shows in the UK.
Scottish Comedian of the Year 2017/18
"Genuinely thought-provoking...hugely entertaining….a warm and personal show" ★★★★ THE SCOTSMAN
Troy Hawke
"undeniably funny" - Chortle
"mad comic genius" - The Scotsman
"Near perfect character comedy" - The New Current
PERTH WEEKLY COMEDY AWARD WINNER 2019, 2020
Beyond the Joke 2019 ★★★★"Character comedy at it"s finest"
Jojo Sutherland
★★★★★
".. This is truly stand-up comedy at it's best.. expertly crafted.. a must see!"
- SG Fringe
".. A performer the audience could have watched all night!" -The Herald
Jim McMaster
"A good set, a confident act with cheeky and witty material, went down well with the audience" – The Stand
"Larger than life comedian! Full of awesome close to the knuckle funnies. Booked Jim and he was ace. He'll be back on many more of my shows! Great with the audience"- Russell Towers - Fat Lip Comedy
Strictly 18+
Live comedy brought to you from the people at chuckl.
www.chuckl.co.uk
Thursday 2nd September 2021 - 19:30
Tickets
 £13.50