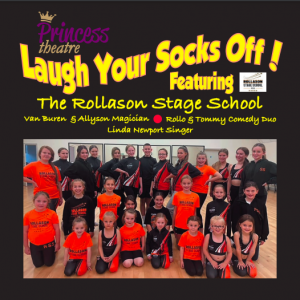 The Rollason Stage School students are a firm favourite and regulars on the Princess Theatre stage. 
During lockdown, the classes continued online daily, and as restrictions lifted, all students returned to what they love doing  best, performing all varieties of dance, musical theatre and more. 
This summer, the team have been performing in Summer Pantomimes in Skegness and Blackpool. The students train hard during the week all year round and they can't wait to perform again before a live  theatre audience, to showcase last year's work.  
So please come and see them on stage, together with a great variety of entertainment from renowned magician
Van Buren & Allyson, fun comedy duo Rollo & Tommy J and superb vocalist Linda Newport.

Van Buren website - www.vanburen.org.uk
Rollo the Entertainer.
Tommy J The Entertainer
RolloAndTommyJ
Rollason Stage School
Rollason Entertainment
Sunday 24th October 2021 - 14:30 
Tickets
Standard £15.00 / Concessions £12.50