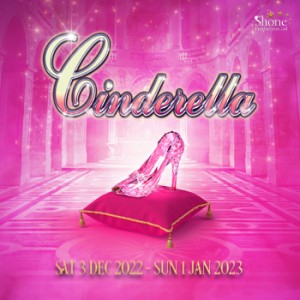 This Christmas, you're invited to the biggest ball of all at The Princess Theatre, Hunstanton.
Cinderella has always dreamed of leaving her dull life as a servant to meet a handsome Prince. After the announcement that Prince Charming is going to hold a royal ball, it seems she may get her wish after all, but with the Ugly Sisters around, who knows what will happen. Maybe with the help of Cinderella's Fairy Godmother and a generous helping of fairy dust, and a glass slipper, perhaps Cinderella's wish could come true and she will live happily ever after?
This magical pantomime features Great Songs, Dazzling Dance Routines, Stunning Scenery, Beautiful Costumes and Amazing Special Effects - It will be an unforgettable experience for children and adults alike.
So, make sure you book your tickets for this magical show. 
*Suitable For All Ages
WATCH PROMO VIDEO HERE
From Saturday 3rd December 2022 to Sunday 1st January 2023Tickets
Adult £18.50 / £20.00
Child / Concession £16.50 / £18.50
Family of 3 Ticket  £50.00 / £55.00 (2 adults & 1 child)
Family of 4 Ticket £65.00 / £72.00 (2 adults & 2 children)
Children's Groups (10+) £10.00 each - 1 For Every 10 Goes Free (not available on Christmas Eve or Boxing Day)
Schools - £9.00 per child (Teachers go free 1 in 10 children) if booked before 1st June - £9.50 per child thereafter. Price includes a tub of vanilla ice-cream
or
a fruit shoot for the interval. Teachers get complimentary tea/ coffee and mince pies.
Schools and Groups please contact us directly.