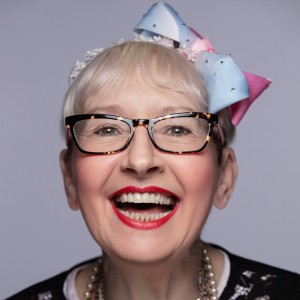 Stories, stand up and songs followed by a candid and hilarious Q and A session with the audience, Su Pollard shows once again why she is a national treasure in the FEEL GOOD show of 2022.
Su made her television debut on Opportunity Knocks, where she came second to a singing Jack Russell dog.
She is best known for her role as Peggy in the BAFTA Award-winning sitcom Hi-De-Hi and was honoured to be the subject of This Is Your Life.
Other television & film credits include: Two Up Two Down, You Rang M'Lord, Call up The Stars, Oh Doctor Beeching, Gimme Gimme Gimme, Benidorm Christmas Special, Run For Your Wife, Hacker Time, Last Laugh In Vegas, Doctors, Andy and The Band, Penny Crayon, The World of Peter Rabbit and Friends, Little Robots and Claude (voice).
West End Credits include: The Desert Song, Oh Mr Porter, Godspell, Me and My Girl, Don't Dress for Dinner, Little Shop of Horrors, Menopause The Musical, The Vagina Monologues and Shout!
Other theatre includes: Not Now Darling, Philately Will Get You Nowhere, A Song, A front and a Tinkle, Grease, Rose Marie, Babes in Arms, Sweet Charity, Big Sin City, See How They Run, Little Shop of Horrors, Habeas Corpus, Abigail's Party, A Happy Medium, Annie, Hot Flush, Romeo & Juliet, Ha Ha! Hood and Harpy.
Su has also guest starred on: The Weakest Link Celebrity Special, The Best of the Royal Variety, Destination Lunch, Daily Cooks, Strictly Come Dancing Christmas Special, Playing Blackpool, Dick and Dom in Da Bungalow, Vera Lynn Tribute, Who's Doing the Dishes, Celebrity Antiques Road Trip, The Baby Boomers Guide to Growing Old, It Takes Two, Through the Keyhole, The Keith and Paddy Picture Show, Pointless Celebrities and most recently Celebrity Masterchef.
Her credits in the world of music include a hit single, Starting Together, as well as her own album Su Pollard - The Collection which reached number two in the UK charts. Her musical recordings include: Carousel, Hey Mr. Producer, Among Friends and There's Something About You.
A true star of Pantomimes, Su has appeared in: Pinocchio, Aladdin, Jack and the Beanstalk, Dick Whittington, Babes In The Wood, Snow White, Sleeping Beauty, Peter Pan and Cinderella.
WATCH VIDEO HERE!Sunday 26th June 2022 - 19:30Tickets
£45.00 VIP (includes Meet & Greet)
£21.50 Standard