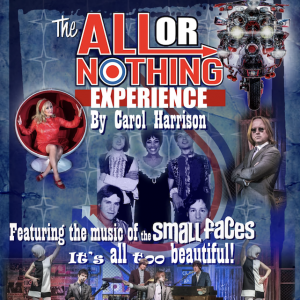 In 2016  All Or Nothing: The Mod Musical, written by Carol Harrison and celebrating the music of the iconic mod band the Small Faces, opened in London and then performed to sell-out tours for two years before opening for a successful West End run in 2018.
1965. A new phenomenon erupted on to streets of London it was the essence of all that was cool. It was MOD. Small Faces were four charismatic young kids from East London; sharp, funny, and streetwise, they encapsulated all that was Mod. Like their story, their music is colourful, poignant, and bittersweet.
The
All Or Nothing Experience
band presents Small Faces and beyond paying tribute to their unique and electrifying sound including the hits
What'cha Gonna Do About It, Itchycoo Park, Lazy Sunday, Tin Soldier, All Or Nothing
, and many more. Plus the music created by band members Steve, Ronnie, Mac, and Kenny, post Small Faces. Featuring tracks by Humble Pie, the Faces, Ronnie Lane, and The Who.
WATCH VIDEO HERE
★★★★★ 
"A rocking night out"
★★★★★ 
"Absolutely brilliant show, a must see!"
★★★★★ 
"Have seen this fantastic show and highly recommend it, a Fab night out"
★★★★★ 
"Great production, we loved it!"
★★★★★ 
"You will all enjoy this show, the music is so good"
Friday 21st July 2023 - 19:30
Tickets
£25.00