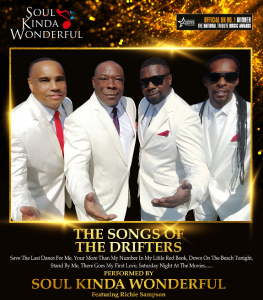 UK's NO 1 TRIBUTE TO THE DRIFTERS - TRIPLE AWARD WINNERS THE NATIONAL TRIBUTE AWARDS 2013 / 2016 / 2017
Featuring
RICHIE SAMPSON
formerly in
THE DRIFTERS
The UKs no.1 award winning tribute to The Drifters, The Four Tops and The Temptations. Thoroughly re-live that splendid era with Soul Kinda Wonderful, this is Soul and Motown at its very best.
Lead vocalist, Richie Sampson, has performed alongside former long standing members of The Drifters, such as Ray Lewis, Billy Lewis, Butch Leak and Roy Hemming's at various times. The band breathes new life in to the classic Drifters hits such as 'Under the Boardwalk', 'Save the Last Dance for Me', 'Up On The Roof, 'Kissing In The Back Row of The Movies'.
The group also pay tribute to the great original members such as Ben E King and his solo hits Spanish Harlem & Stand By Me, Clyde McPhatter and Johnny Moore who's music will always be remembered.
https://youtu.be/71HLYd92XB0
https://youtu.be/1-piKp3C1ks
SONG CHOICES INCLUDE

MOTOWN
https://youtu.be/JT-V6gC89-4
Saturday 17th February 2024 - 19:30
Tickets
£27.50