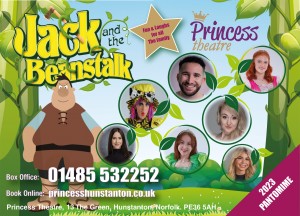 Fee Fi Fo Fum, a Giant has been spotted in Hunstanton!
The Princess Theatre invites you to join us this Christmas for our 2023 Pantomime –
Jack and the Beanstalk
.
Come and watch this exciting adventure unravel, as Jack embarks on a journey through land and sky. Accompanied by fun audience participation, spectacular costumes, and lots of laughs, this Panto can't be missed! 
*Suitable For All Ages
From Saturday 2nd December 2023 to Monday 1st January 2024Tickets 
Adult £19.50 / £21.00
Child / Concession £17.50 / £19.50
Family of 3 Ticket  £53.00 / £58.00 (2 adults & 1 child)
Family of 4 Ticket £69.00 / £76.00 (2 adults & 2 children)
Children's Groups (10+) £11.00 per child - 1 in Every 10 Goes Free (not available on Christmas Eve or Boxing Day)