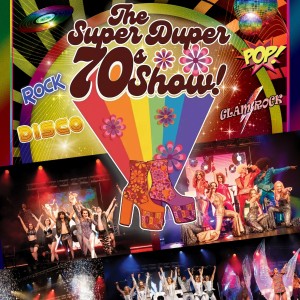 'The Super Duper 70s Theatre Show' is exploding with high-energy, iconic 70s hits from Disco, and Glam Rock, to Pop and Classic Rock!
Boogie on back to the sizzling 70s!
This groovy show will space-hop you back in time and tantalize your musical taste buds with its tremendously talented star cast, captivating costumes, and enthralling choreography!
The show has a cast of 8, 4 singers and 4 dancers. 
It features a dazzling light show, giant groovy stage props, and funky LED screen footage! So Come On Feel The Noize, and prepare to be tappin' those Tiger Feet!  
Here's a little more information about our company Stage Fever Productions. 
Stage Fever Productions was established in 2021 and is run by company directors, Andy Simpson and Claire Hudspeth. 
Here at Stage Fever Productions, we produce, direct, cast, promote and market our shows, working alongside a talented team of experienced creative professionals. Quality is at the heart of everything we do. To produce new and exhilarating, high-end shows for all music lovers.
Here is a link to our production team career history and credentials. Should you wish to take a look at our individual experience. 
Meet the Team – Stage Fever Productions
WATCH VIDEO HERE
Saturday 21st October 2023 - 19:30
Tickets
£25.00