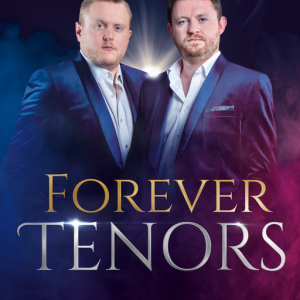 Yorkshire's own Forever Tenors features two outstanding male vocalists Adam Lacey and Rob Durkin, who both have an impressive array of past professional credits from the world of opera and West End Musicals. Dubbed the 'Ant & Dec' of the Classical world Adam and Rob have been best friends for many years and this reflects in their performance and the music they make together. The natural ease, humour and camaraderie they share on stage never fails to draw the audience in.
Accompanied by their live musicians they aim to push the boundaries of the classical world by fusing a the orchestral sound of opera and musical theatre with the more contemporary musical styles and range of pop & rock. 
Their refreshing new arrangements to songs as Unchained Melody, Nights in White Satin and Rule The World with lyrics sung in both English and Italian, feel as though you are enjoying these timeless classics for the first time.
Forever Tenors promises to make this an evening you will always remember!
Showreel Filed Live At Huddersfield Lawrence Barely Theatre
Sunday 18th February 2024 - 19:30
Tickets
£26.00