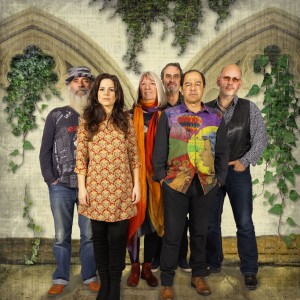 Steeleye Span announce a new Autumn Tour throughout October and November 2023, as they continue to celebrate their 50th anniversary, and revisit their early albums from their formative years. The evening will see them spanning their vast catalogue, playing homage to earlier albums (1972's
Below The Salt
and 1973's
Parcel of Rogues
), right up to the present day (2013's
Wintersmith
, 2016's
Dodgy Bastards
).
The early 1970s would prove to be the start of a vintage period for music and the beginning of an era that would change the world. For Steeleye Span – as the previous decade had drawn to a close - it would see them established as a major creative force. By the end of 1973 they had not only released their classic debut Hark The Village Wait but also three follow ups –
Please To See The King, Ten Man Mop
and
Below The Salt
- launching one of the most enduring stories in the folk world and beyond.
Pioneers of folk-rock, Steeleye Span changed the face of folk music forever, taking it out of small clubs and into the world of gold discs and international tours. Five decades on and this six-piece line up celebrate fifty years of these famous albums, as well as favourites and gems from their long and glittering career. 
"Don't miss them..."
- The Independent
Unlike most acts of their vintage, Steeleye haven't been content to rest on their laurels as they have approached such a significant milestone – enjoying one of the most creative periods of their history, including the acclaimed
Wintersmith
album in collaboration with Sir Terry Pratchett in 2013. Their current line-up, led as ever by Maddy Prior and featuring Andrew Sinclair, Roger Carey, Liam Genockey, Julian Littman, Jessie May Smart and Violeta Vicci has been hailed by many as one of the best ever, not only bringing a new approach to classic material but producing a new album
Est'd 1969
, that is worthy of anything that has preceded it.
Promo live video from the 50th anniversary
Thursday 9th November 2023 - 19:30
Tickets
£29.00