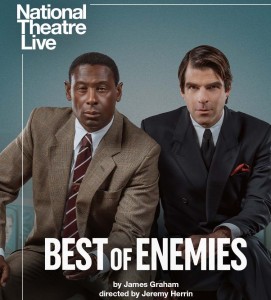 Best of Enemies
by James Graham
directed by Jeremy Herrin
inspired by the documentary by Morgan Neville and Robert Gordon
David Harewood (
Homeland
) and Zachary Quinto (
Star Trek
) play feuding political rivals in James Graham's (
Sherwood
) multiple award-winning new drama.
In 1968 America, as two men fight to become the next president, all eyes are on the battle between two others: the cunningly conservative William F. Buckley Jr., and the unruly liberal Gore Vidal.
During a new nightly television format, they debate the moral landscape of a shattered nation. As beliefs are challenged and slurs slung, a new frontier in American politics is opening and television news is about to be transformed forever.
Jeremy Herrin (
All My Sons
) directs this blistering political thriller,
filmed live in London's West End.

WATCH THE TRAILER HERE
Rated 15
Running Time 2 hrs 45 mins
Tuesday 13th June 2023 - 19:30

Tickets:
Standard 
-
 £15.50 
Concession - £13.00
Film Club Members - £10.00 (please book via the box office directly).   
*PLEASE NOTE - Seating is 
General Admission
, (refers to seating that is not assigned or reserved, and are occupied on a first-come, first-served basis once the auditorium is open.)