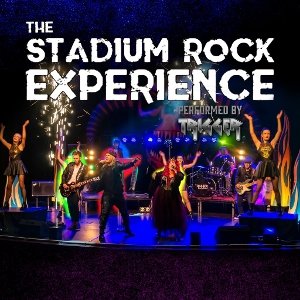 The Stadium Rock Show is a high-octane 6-piece rock band based in the Midlands. Their mission is to provide the full 'stadium rock' experience, delivering the excitement and spectacle associated with arena rock, with the highest standard of musicianship, and the most popular hit songs from the biggest mainstream rock acts.  
The set list includes classic anthems from the likes of
Bon Jovi, Bryan Adams, Queen, Status Quo, Elton John, Guns N Roses, Whitesnake, AC/DC, Tina Turner, Aerosmith, Kiss, Journey
and
Van Halen
, which are all performed to capture audience attention, and keep everyone engaged, excited and participating from the very first song right through to the finale.
A selection of promotional videos illustrating the live show can be found here:  
Official Showreel  –
https://www.youtube.com/watch?v=aske1P35DC8
Let Me Entertain You (promo) – 
https://www.youtube.com/watch?v=XHYOejQfQEE
Proud Mary (promo) – 
https://www.youtube.com/watch?v=99UH8fjsP3k
We Built This City (promo) – 
https://www.youtube.com/watch?v=0vPuOg7jvnE
Dead Ringer For Love (promo) – 
https://youtu.be/0ND3AqlyJKw
Saturday 21st September 2024 - 19:30
Tickets
£25.00