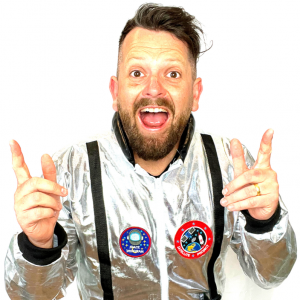 Are you ready for a gardening show like no other? Then look no further than Extreme Gardening: Don't Try This At Home, starring Lee Connelly, the Skinny Jean Gardener from CBBC's Blue Peter. This is not your average garden show – it's extreme gardening, with a twist!
Anglian Water is proud to support this incredible display of gardening prowess, bringing you the most elaborate and breathtaking gardening show to the stage. With tomatoes in space, skydiving with sunflowers, and sowing pumpkins underwater, this is a show like nothing you've ever seen before.
Lee Connelly is a master at pushing the boundaries of what's possible in gardening, and he's here to share his secrets with you. Get ready to be amazed as he takes you on a journey through the most extreme gardening techniques in the world.
Best of all, thanks to our generous sponsors, Anglian Water, all we ask is for a small £2 donation to a local charity. So what are you waiting for? Book your tickets today and join us for an unforgettable show of extreme gardening!
·   "Lee's passion for gardening is infectious" -
CBBC's Sam Nixon
·   "The King of Gardening for kids" -
BBC Radio 4 Gardeners' Question Time's Matthew Biggs
·   "We could do with more people like Lee to spread the word of gardening with kids" -
BBC Gardeners' World's Adam Frost
Lee Connelly is The Skinny Jean Gardener, and one of the UK's TOP 50 TV Gardening Presenters, from CBBC Blue Peter, BBC Teach, BBC Radio 1 and Extreme Gardening. He is a children's author of 'How to get Kids Gardening' and hosts The Sunday Times Best Gardening Podcast, Teacher/ Parent Garden Club. Lee is the founder of School Gardening Success bringing primary school gardening education to the UK and the Leading Children's Gardening educator in the UK, but most importantly he is a Daddy to his daughter Olive.
Supporting this years show are Anglian Water. Anglian Water is the largest water and water recycling company in England and Wales by geographic area. We supply water and water recycling services to almost seven million people in the East of England and Hartlepool. We were the first major utility to enshrine our purpose in the fabric of our company constitution: our Articles of Association. Our purpose is to bring environmental and social prosperity to the region we serve through our commitment to Love Every Drop. 
This is a bold idea about the role we want to play in the world. It acts as a north star for our team and is a genuine promise to our customers, partners and shareholders. We're constantly challenging ourselves to be the best company we can be, and to make a real and meaningful impact for our customers, communities and the planet.
Thursday 31st August 2023 - 14:00
Tickets
£2.00