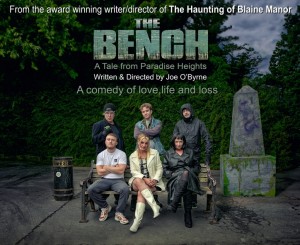 From the writer/director of the brilliant 'The Haunting of Blaine Manor' that was met with outstanding feedback...The Bench – A Tale From Paradise Heights
It's just a bench in the park, the one by the war memorial. A thief, a fake clairvoyant, a homeless man, two burglars, a street sweeper, two war veterans, an artist, a widow, a drug dealer, a real clairvoyant, a loan shark, an angel and a ghost. 
They've all sat here at least once this year. Before the end of the year one of them will be murdered here... 
A comedy of love, life and loss.  
Age 16 plus due to adult language and themes.
WATCH THE VIDEO FOR MORE INFO HERE
Reviews: 
Entirely gripping, utterly enthralling. A play like Joe O'Byrne's comes along to remind us all what really matters.
Steve Balshaw, Grimmfest 
The cast are brilliant, and the stories too...The show enchants you, thrills you, chills you, haunts you and will break your heart. Six actors play sixteen unforgettable characters all wrapped up in twelve scenes, twelve months and one helluva show.  
John Kristof, Number9Reviews 
Loved it! Wonderful gags out of left field, intrigue, suspense, heart-rending scenes and heartwarming moments. A great night of theatre! Do more! 
David Slack, Manchester 24/7 Theatre Festival 
Like Jim Cartwright, O'Byrne has a knack of finding poetry in the most ordinary situations; he also has real affection for his characters, and they feel like flesh and blood people.
Steve Timms, Whatsonstage.com 
The quality of production and script we would expect to see on the main stages of our region's theatres. 
David Chadderton, British Theatre Guide 
Highly recommended and a play and writer that will surely go on to greater things. 
Kevin Bourke, Manchester Evening News 
When are TV commissioners going to wake up and find Joe O'Byrne? 
Stephen Kingston, The Salford Star 
Thursday 19th October 2023 - 19:30
Tickets
£23.00