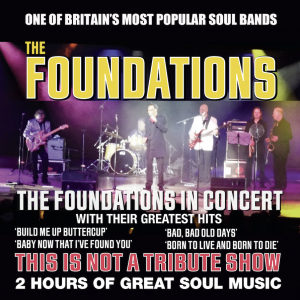 Story of The Foundations
By Ralph Gowling, Deputy Editor of The Beat magazine
The Foundations flirted early on with having two lead singers - one white and one black - and Arthur Brown actually performed a few shows with the group before going on to become "The Godfather Of Hellfire".
Rod Stewart, then still looking for chart success, put in a one-night appearance.
"That was always the idea with us being a multiracial band - to have one white guy and one black guy at the front," original Foundations lead guitarist/vocalist Alan Warner told The Beat.
"It was a great idea but it was never to be, unfortunately," said Alan, amid a resurgence of interest in the sound of The Foundations that has led to a spate of bookings for his band.
The Foundations first came to attention in 1967 with the worldwide number one 'Baby Now That I've Found You' with Alan, Clem Curtis (lead vocals), Pat Burke (flute, tenor saxophone), Mike Elliott (tenor saxophone), Eric Allendale (trombone), Peter Macbeth (bass) and Tim Harris (drums).
They had signed for the Pye label and come under the wing of producer/songwriter Tony Macaulay, who had penned the number with John MacLeod.
The Foundations were the first British multiracial group to have a number one hit in Britain in the 1960s. The Equals topped the charts a year later with 'Baby Come Back'.
The follow-up 'Back On My Feet Again' reached number 18 in Britain and then 'Any Old Time (You're Lonely And Sad)' got to number 48.
Clem Curtis left The Foundations at this stage and was replaced by Colin Young, who was on lead vocals for the group's next international chart-topper 'Build Me Up Buttercup'.
This was written by Macaulay and Manfred Mann lead singer Mike d'Abo.
"Mike d'Abo actually played the piano on 'Build Me Up Buttercup' as well. That opening intro that everybody associates the song is Mike d'Abo.
"It would have been nice to have had him as a singer with us as well!"
The Colin Young era also produced hits with 'In The Bad Bad Old Days (Before You Loved Me), number eight, and 'Born To Live, Born To Die', number 46.
Back in the days when The Foundations were taking shape, as Alan has said, they did want to recruit a white lead singer to work alongside Clem Curtis.
The soul-edged Foundations emerged from a ska/reggae group known variously as The Ramongs or Ramong Sound who had two lead singers.
Alan and his fellow musicians lived in a basement club that they ran in London's Bayswater area. It was called The Butterfly Club.
"At some point we decided to get another singer to go along with Clem again, so we'd have the two singers. So we got Arthur Brown.
"We did a few gigs with Arthur and Clem. He stayed with us a couple of months before moving on."
Arthur was to storm charts around the world in 1968 with 'Fire', calling his act The Crazy World Of Arthur Brown.
His stage act was electrifying because he indulged in theatrical performances, wearing helmets of fire, outrageous make-up and outlandish costumes.
Arthur's almost demented sounding vocals and fire-obsessed lyrics quickly earned him the title of "The Godfather Of Hellfire".
Alan, widely regarded among his peers in the music business as one of the finest and most versatile guitarists on the circuit, remembered a very different image.
"You think of Arthur now as a bit wild, but he was just a really nice guy when he came to us.
"He was very straight - he didn't smoke, didn't drink, didn't take drugs.
"When he arrived for the audition he was wearing a tweed jacket and was very well-dressed and well-mannered.
"You really, really couldn't find a nicer guy. He was absolutely brilliant to work with and I wish he could have stayed with us, but obviously he had other things in the pipeline."
Alan said group had also been keen to recruit Rod Stewart.
"We tried out Rod - now I say we tried him out but we didn't actually try him out because he just came along one night.
"It was not on a gig. It was just in our basement club that we were running.
"He was into soul at the time and we wanted him to join the band, but he declined because he was going more into other material."
Alan was the only original member of The Foundations to stay with the group from 1967 to their break-up in 1970.
Alan Warner's Foundations keeping the music playing live today are: Hue Montgomery (lead vocals), Dave Lennox (keyboards), John Dee (bass/backing vocals), Alan Warner (lead guitar/backing vocals), Pete Stroud (drums) and Dominic Bon De Sousa (saxophone).
THE FOUNDATIONS
were one of the biggest groups of the Swinging Sixties!!!
WITH THE INTERNATIONAL CHART-TOPPERS "BUILD ME UP BUTTERCUP"and "BABY NOW THAT I'VE FOUND YOU"
Plus a string of other hits like "Back On My Feet Again", "Any Old Time (You're Lonely And Sad)", "In The Bad Bad Old Days (Before You Loved Me)" and "Born To Live, Born To Die"
Now original lead guitarist/vocalist Alan Warner is keeping the magnificent sound of The Foundations alive with a group of hugely talented musicians.
Friday 9th February 2024 - 19:30
Tickets
£25.00