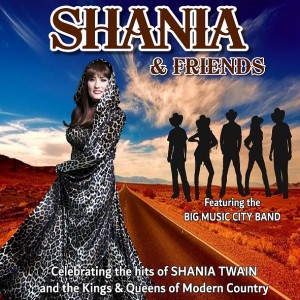 If you're a modern country music fan, then this is a show not to be missed! 
Join us in this high energy, fast paced, fully live tribute to the Queen of country pop, SHANIA TWAIN. 
With more than 90 million albums sold worldwide, Shania Twain is the top-selling female country artist of all time with hits such as:
Man! I Feel Like a Woman, From This Moment, That Don't Impress Me Much, Who's Bed Have Your Boots Been Under
and many more.
Following the sensational tribute to this Country Pop Icon, our second half takes you on a musical journey, celebrating some of the greatest Country stars the 90's & 00's, we may even throw in some of the old classics! Including, artists such as, Garth Brooks, Faith Hill, The Chicks, LeAnne Rimes, Lady A and more. 
The whole show is backed by our amazingly talented Big Music City Band, for an authentic Nashville vibe.  This show will have you singing and dancing in the aisles!   
Shania & Friends - A tribute to Shania Twain & Modern Country | Live Shania Twain & Country Band - YouTube
Friday 1st March 2024 - 19:30
Tickets
 £23.50