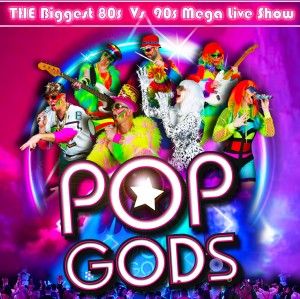 Pop Gods is the biggest night of 80s & 90s live music you will experience this year.
Performed by a live band with backing singers and dancers, this mega fun-time feel-great show is a show of two spectacular halves… the like of which has never been seen before in the UK.
First half you'll be dancing to the huge singalong classics of the 1980s including Cyndi Lauper, Madonna, Wham, A-Ha, Whitney, Bananarama, Duran Duran, Queen, Bon Jovi and many more. So, make sure you backcomb that hair do, dust those legwarmers off and get your feet ready to dance the night away.
And during the slow set, remember to keep those hands where we can see them!
Second half of the show takes it up a notch to give you the biggest anthems of the 1990s.Grab your glowsticks and UV face paint and dance your heart out to the songs of 2 Unlimited, Snap, Gala, N-Trance and Robin S. Sing your head off to the music of Spice Girls, Britney, Vengaboys, S Club, Steps, Shania and B*Witched. Or get your boyband lighters out to sing-along with the hits of Take That, Boyzone, Backstreet Boys, Five and Westlife.
So let's go girls…what's your costume gonna be…Whitney or Britney?
WATCH VIDEO HEREFriday 12th July 2024 - 19:30
Tickets
 £22.00