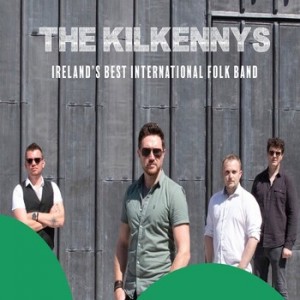 The Kilkennys are one of the finest folk groups in the world. A band of four Irishmen, they are ambassadors of Ireland's music tradition. 
The band boast an array of instrumentation between them including mandolin, whistle, uilleann pipes, guitar, bass and bodhran. All four members sing and in a live setting, the result is a dynamic powerhouse. The Kilkennys have toured globally since 2004. They have established a solid and growing fanbase in Europe, America and beyond. Their recorded catalogue includes their phenomenal live recording 'Meet The Kilkennys' and two studio albums: 'The Colour Of Freedom' and 'Blowin' In The Wind.' These albums have received international acclaim and cumulative streams numbering in the millions. 
The band have appeared on national TV in Ireland and Denmark and have received widespread radio play both nationally and locally. Davey Cashin is a natural frontman and his onstage energy is infectious. He is a crowd favourite. He is expertly supported by his fellow musicians, Tommy Mackey, Mick Martin and Josh O'Loughlin. Find the band online and follow their social media for regular updates. See them live at a venue near you and experience Iris.
Watch their video below
https://youtu.be/TCifBOafKTY​
Thursday 14th April 2022​ - 19:30 
Tickets
£21.50