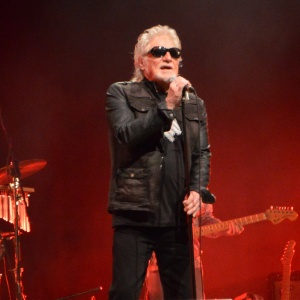 THE SINGER SONGWRITER
In 1964 Raymond met up with Lou Clark, Len Ablethorpe and H.Cain to form a band. At that time in Birmingham they were surrounded by talented friends who were doing the same, Roy Wood, Jeff Lynn, Tony Iommi, Ozzie Osbourne, Bev Bevan, Carl Wayne, Trevor Burton, Steve Gibbons, Dave Pegg and Robert Plant, the list goes on.
Raymond and his band gigged around England and France for a few years before being signed by Polydor Records in 1967, that's when Raymond wrote his first hit, followed by many more hits here and abroad.
His songs were covered by Cliff/Dave Clark/Leapie Lee/Maria Laforet/Daniel O'Donnell/Dominic Kirwin/Gladys Knight and many, many more worldwide.
Raymond has continued to write and tour the world playing every venue from large to small, including Ronnie Scott's in London, the Ice Drome Tulsa, USA, The Elbow Room Birmingham and the Wembley Arena. Raymond still tours to this day with his band, Tom Farnell/Roger Brown/Peter Meyrick/H.Cain. 
A fantastic show with great songs spanning 52 years.  
The original band
Lou Clark, Hooked on Classic's. Lou worked arranging for ELO and now lives in America. He continues to work with his band orchestra. 
Len Ablethorpe lives in the Rockie's, Canada and is now retired.
H.Cain continues to work with Raymond as lead guitar and arranger (The Fabulous Frog Band).
Friday 28th February 2020 - 19:30 
Tickets
£22.50 / £20.50, restricted view £19.00