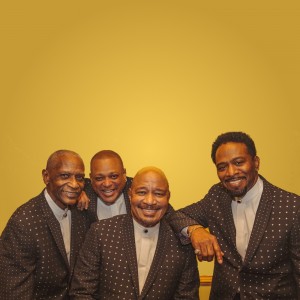 THE STYLISTICS 2021 direct from the USA 
Greatest Hits - Live!
The Stylistics are known instantly for their many recognisable hits such as the Grammy nominated 'You Make Me Feel Brand New' plus numerous classics including 'Can't Give You Anything (But My Love)', 'Let's Put it All Together', 'Stop, Look, Listen to your Heart', 'You Are Everything', 'Betcha By Golly Wow', 'Sing Baby Sing' and more.
The Stylistics remain the real deal, fabulously entertaining and musically breathtaking, plying everyone with the hits that made them a household name.   
With Support Act - Tom Cridland
Tom Cridland is a singer songwriter. Tom was encouraged to make his own music by a childhood obsession with The Beatles and the career of his friend, Nigel Olsson, Elton John's legendary drummer. When he started writing songs in 2019 he prolifically recorded over 100 of them and then played a gig all 48 contiguous US states. Tom's original music caught the attention of the legendary Philadelphia band, The Stylistics, who have invited him to open for them on their upcoming UK tour in 2021.
Watch some of Tom's material here to get a taste here - 
https://youtu.be/5LLy045caaw
It's a show not to be missed! 
Sunday 7th November 2021​ - 19.30Tickets
 £41.00