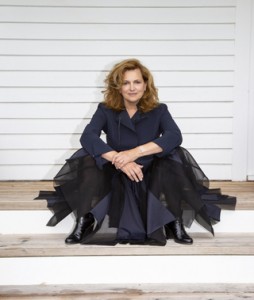 BARBARA DICKSON IN CONCERT WITH FULL BAND - 'TIME IS GOING FASTER' UK TOUR 2022
Multi million selling recording artist BARBARA DICKSON with her accomplished band returns to tour the UK
, performing both classic and more recent material from her extraordinary canon of music across both pop and folk, all with her exceptional band.
As a multi-million selling recording artist with an equally impressive Olivier Award winning acting career, Barbara Dickson OBE has long since cemented her status as one of the UK's best-loved performers.
Emerging from the Scottish Folk Revival of the 1960s, Barbara Dickson became the biggest selling Scottish female album artist of all time, earning 6 platinum, 11 gold and 7 silver albums.
Known to a wider audience in the 1970s and 1980s with hits including 'Answer Me', 'Another Suitcase in Another Hall', 'The Caravan Song' and 'I Know Him So Well', she enjoyed ten years of chart success as a pop star. So much was her contribution that she was awarded an OBE from Her Majesty The Queen in 2002 for Services to Music and Drama.
As an actress, she has appeared in the award winning theatre productions, 'John, Paul, George, Ringo and Bert', 'Blood Brothers' and 'Spend, Spend, Spend'. She was the original Mrs Johnstone and Willy Russell's muse.
Barbara is working on a new album 'Time Is Going Faster' which will be released at the end of the 2020.
After a musical odyssey of 50 years creating music, playing guitar and piano, acting, and songwriting this tour is a culmination of her journey thus far.  Barbara will perform a wonderful range of material drawing on her folk roots as well as performing globally known hits.  It's an evening packed with songs from one of the finest voices you will ever hear.
"I can't wait to be playing live again, after this year's crisis and shutdown. Like everyone, I want it to be over, and us all back to being able to enjoy life again as soon as possible. Music feeds the soul and we're all in need of a pick-me-up.

I'm pleased that my adventures in the Real Marigold Hotel were screened . I met some lovely new friends there; Zandra Rhodes, Henry Blofeld, Paul Elliott, Britt Ekland, Duncan Bannatyne, Susie Blake and John Altman and thoroughly enjoyed their company!

Sending my best wishes to everyone.  Stay safe."
Barbara
Monday 21st March 2022 - 19:30Tickets 
£39.50