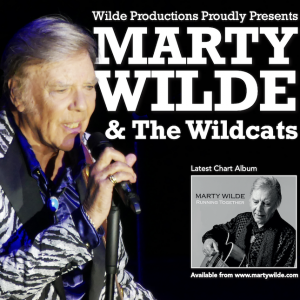 Marty Wilde and his 5-piece band The Wildcats make a welcome return to the Princess Theatre, Hunstanton on Saturday 23rd September 2023.
In May 2019 Marty was back in the British charts with a compilation of his Greatest Hits, including "A Teenager In Love", "Sea Of Love", "Donna", "Bad Boy", "Endless Sleep", "Jezebel" a new song "Eddie" (A tribute to his late friend Eddie Cochran) and many others. Marty is also an acclaimed songwriter and penned hits for Status Quo, Lulu, The Casuals and his daughter Kim Wilde. His brand-new studio album has been completed and was released in 2020.
Marty began his career in 1957 - and was one of the first British singers to play a leading part in those early formative and ground-breaking 'Rock'n'Roll' years'.
With his many hits and a host of wonderful songs from that era - Marty Wilde and his fabulous band the Wildcats take you back through some of the most exciting musical times this country has ever experienced.
A fantastic evening awaits you from a man who a short while ago was awarded the MBE by the Queen for Services to Music.
Marty Wilde is one of only a handful of original British artists of the 1950's and '60's who continue to tour. So get ready for a stunning musical roller coaster as Marty Wilde and the Wildcats bring you a much acclaimed show – a show that has been rocking audiences around the country.
A show not to be missed!
Saturday 23rd September 2023 - 19:30Tickets
£27.00