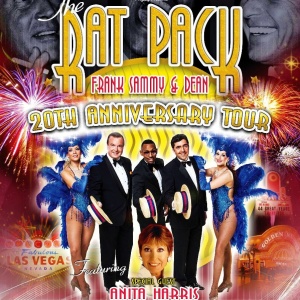 The star studded cast of the UK's original and longest running Rat Pack show...have achieved many accolades and awards after appearances worldwide, including seasons in The West End, A Royal Command Performance and numerous TV shows including Strictly Come Dancing for The BBC last year.
In 2013 - 2017 the show was voted the number 1 Tribute Show by The Agents Association of Great Britain, at The National Tribute Awards.
These supremely talented cast members include: Des Coleman (Lenny from Eastenders) as Sammy Davis Jnr, Paul Drakeley (Inside Out) as Dean Martin and Ol' Blue Eyes himself in the shape of one of the world's greatest Sinatra interpreters David Alacey (Lovejoy). David's acclaimed portrayal of Sinatra has been described as "Too close for Comfort" by The Sinatra Estate and Las Vegas Legend - original Rat Pack member Buddy Greco claimed that David "Really is Sinatra – it's frightening!"
Now together with the Swinging Buddy Greco Orchestra under the Direction of BBC Musical Director – Don Hunt and the stunning L.A Showgirls, this show once again reunites these legends together again for one special performance, featuring the hit songs and comedy which helped to create a unique chapter in Entertainment history.
Sunday 24th September 2017 - 19:30
Tickets
£25.00 / £21.00